Demo Session Literature Review with webQDA: better organization, faster process, stellar results
Maio 20 @ 12:00

-

13:00

UTC+4
|
Gratuito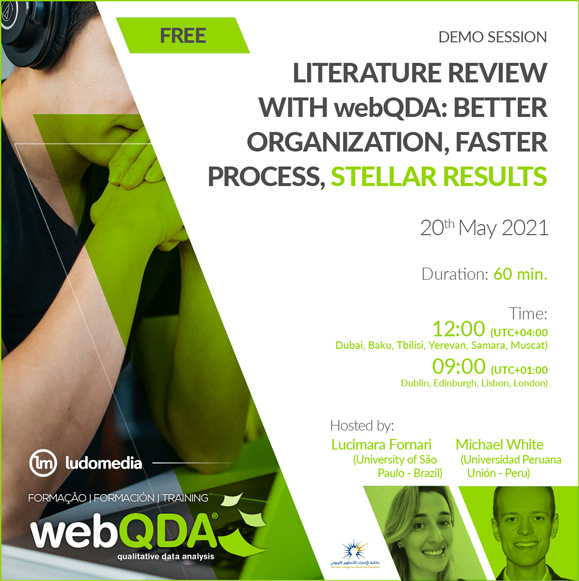 Demo Session Literature Review with webQDA: better organization, faster process, stellar results [ONLINE – FREE]
Date: 20th May 2021
Duration: 60 min
Time:
12:00 (UTC+04:00 – Dubai, Baku, Tbilisi, Yerevan, Samara, Muscat)
09:00 (UTC+01:00 – Dublin, Edinburgh, Lisbon, London)
Please check the correct time in your timezone >>
Hosted by:
Lucimara Fornari (University of São Paulo – Brazil)
Michael White (Universidad Peruana Unión – Peru)
This demo session will be held online, in Zoom. Access to the virtual room will be sent to attendees close to the event date.
To register, scroll down, click "add to cart" and follow instructions. In the registration form, if you do not have a NIF/NPC number, fill in with 999999999. If you find any difficulty, please send us an email to info@webqda.net with the subject Demo Session and we will register your name and email in the attendees' list.
Abstract. Literature Review is an important step for researchers, as it allows to synthesize previously produced knowledge and identify gaps in proposing new studies. The use of digital tools to support literature review, and qualitative analysis in general, provides better organization, quality and validation of the research process. The purpose of this Demo Session is to present webQDA software as a potential tool to support Literature Review and showcase an example of LR with the use of this software. webQDA is a qualitative data analysis software available on the web, that enables collaborative work between researchers. webQDA allows the import of metadata from bibliographic reference managers or databases. In addition, it enables the construction of the syntheses through the classification and categorization of the information described and interpreted by the researchers. This Demo Session aims to bring participants closer to the development of Literature Review through a digital tool for qualitative analysis, demonstrating the advantages and importance of using software to optimize this process and, therefore, reach better results. The Demo Session is divided into four moments: presentation, theoretical exposition, practical activity and application in other contexts and discussion. The theoretical exposition will provide an introduction on Literature Review and digital tools for qualitative analysis. The practical activity will demonstrate a case study on the development of Literature Review with the support of webQDA. During the discussion moment, participants will be invited to elaborate questions and comments on the importance of the topic to the field of qualitative research. At the end of the presentation, participants are expected to use webQDA to prepare their literature reviews.
A partnership with: