E-learning Course: Content Analysis with the support of webQDA software
Março 19 @ 14:00

-

15:00

UTC+0
|
72€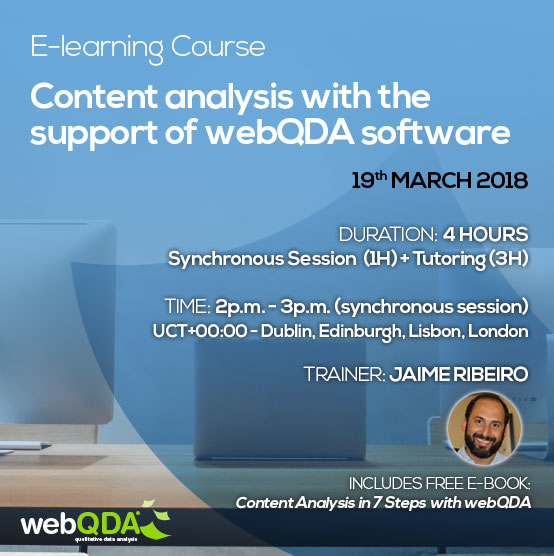 Duration: 4 hours (1 synchronous session of 1h + 3h of tutoring)
Date: March 19, 2018 (synchronous session)
Time: 2p.m. to 3p.m. (UTC+00: 00 Dublin, Edinburgh, Lisbon, London)
Trainer: Jaime Ribeiro
Includes: e-book Content Analysis in 7 steps with webQDA
Price: €72.00 (includes 90 day license)
Structure:
– Synchronous Session (1 hour)
– Tutoring: validation through the webQDA of the proposed tasks (3 hours)
Program content:
Provide and systematize a set of practical guidelines on the technique of Content Analysis, an important element in the set of social research methodologies. Since this is a previous approach to the analysis with the use of software, we will first consider the different phases of the systematic analysis of a documentary corpus; we will dwell a little more on the issues of categorization and statistical treatment; finally, we will draw attention to the problem of the necessary balance between quantification and qualitative analysis in the production of a text of presentation of the data, reinforcing the idea that this analysis is not concealed regardless of the testimonies that were entrusted to the researcher.
Goals:
– Understand the different phases of Content Analysis:
1. Definition of the problem, work objectives and theoretical basis
2. Organization of the Data Corpus
3. Reading the data
4. Categorization and Codification
5. Formulation of Questions
6. Analysis Matrices
7. Presentation of Results
– Develop the conceptual map and build the system of categories;
– Make analysis matrix;
– Produce text and present the data.