Webinar Automatic content analysis of internet texts: a review of methods and tools
9 September, 2020 @ 16:00

-

16:30

UTC+1
|
Free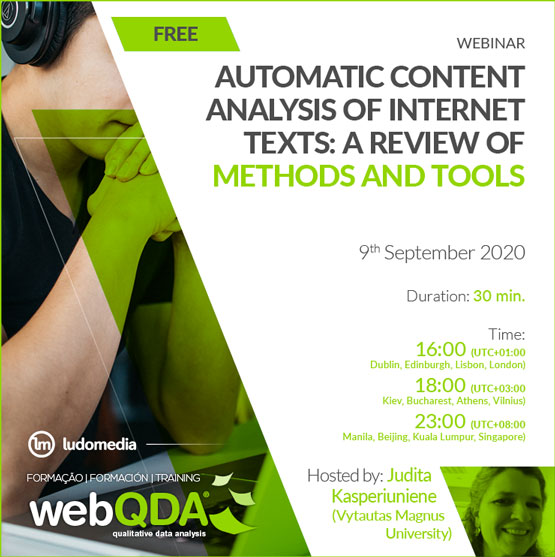 Webinar Automatic content analysis of internet texts: a review of methods and tools
Date: 9th September 2020
Duration: 30 minutes
Time:
16:00 (UTC+01:00 – Dublin, Edinburgh, Lisbon, London)
18:00 (UTC+03:00 – Kiev, Bucharest, Athens, Vilnius)
23:00 (UTC+08:00 – Manila, Beijing, Kuala Lumpur, Singapore)
*Please check the correct time in your timezone
Hosted by: Judita Kasperiuniene (Vytautas Magnus University)
To make your registration: scroll down >> click "add to cart" >> follow instructions
Content analysis is a widely applied method, applicable to qualitative and quantitative data. In content analysis, computer programs could be used not only for manual typing of codes and categories but for automatic screening of texts, software-assisted identifying and coding of words, phrases, paragraphs, or events.
The webinar is aimed to scope the nature and extent of empirical research articles and online materials around automatic content analysis not limited to computer science, media, and communication and provide examples of automated content analysis. During the webinar, the systematically collected results from the empirical articles of the last five years examining the tools and methods of automatic content analysis and the related qualitative research focusing on social sciences are presented. The practical examples of methods, tools, and empirical applications are explained. Additionally, the research gaps and recommendations for the application of automated content analysis are provided. This lecture motivates qualitative researchers to use technological tools.
Judita Kasperiuniene is Associate professor at Vytautas Magnus University, Faculty of Informatics, Lithuania. She holds a Ph.D. in social sciences, education, and M.Sc. in information technologies. Judita is (co) author of many research publications in international and national scientific editions, including few monographs and study handbooks. She constantly makes presentations in international and national conferences and workshops, initiate and actively participate in scientific projects. Her ongoing research is on identity construction in digital times applying symbolic interaction framework and grounded theory methodologies as well as text mining and social network analysis techniques.