Online Course Qualitative Research with webQDA: Sources, Coding, Questioning and Collaboration
22 May, 2021 @ 9:00

-

5 June, 2021 @ 10:30

UTC+8
|
99€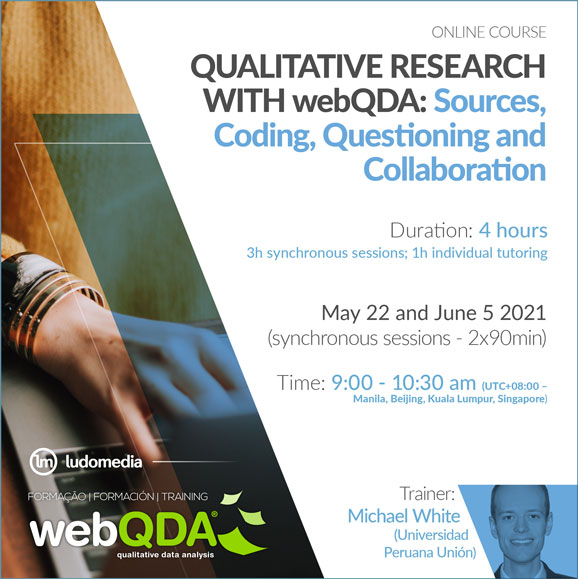 Online Course Qualitative Research with webQDA: Sources, Coding, Questioning and Collaboration
Duration: 4 hours
Synchronous sessions (3h – 2 x 90minutes)
Individual tutoring (1h): individual feedback on the work done on each webQDA system
Synchronous sessions: Many 22 and June 5, 2021
Time:
9:00 – 10:30 am (UTC+08:00 – Manila, Beijing, Kuala Lumpur, Singapore)
*Please check the correct time in your timezone >>
Trainer: Michael White (Universidad Peruana Unión)
Registration includes: attendance and access to recordings; one 90-day webQDA individual license; e-book Content Analysis Supported by Software.
To register: scroll down >> click "add to cart" >> follow instructions
This course aims to present the potential of the qualitative data analysis software webQDA, specifically in the analysis of non-numeric and unstructured data (text, video, image, and audio), and to enable trainees to use all the features and potential of webQDA: sources, coding, questioning, collaborative work, etc.
Goals:
Prepare researchers to deal with non-numerical and unstructured data in qualitative analysis;

Train for the use of qualitative analysis software webQDA;

Discuss how webQDA can be used in different research methodologies and conjunction with other tools;

Develop a project that serves as a model and a basis for learning the functions available on webQDA.
Contents:
Reasons for using qualitative analysis software; expectations for the use of webQDA; organization and potential of webQDA;

Introduction of webQDA actions and functions; document system (Sources); cases and attributes; practical activities;

Coding procedures; category system (Codes); how to relate data and codes to build models; practical activities;

The importance of questioning to extract the information you need from webQDA (Questioning). What is the significance of the analyzes carried out and the results obtained? What is the consistency of the coding throughout the data analysis? Practical activities;

Exploration of patterns in matrices; elements obtained from webQDA that support the writing of the analysis results; discussion of individual and/or group projects; practical activities.
We expect participants in this course to be able, in the short or long term, to:
Understand the potential of qualitative analysis programs;

Understand the functional structure of webQDA;

Enter data and create categories in webQDA;

Categorize, group, relate and question data with the support of webQDA;

Describe the limitations and potential of webQDA;

Use these programs to answer their research questions creatively and methodologically based.