Webinar Ethics in Qualitative Research
17 January, 2019 @ 17:00

-

18:00

UTC+0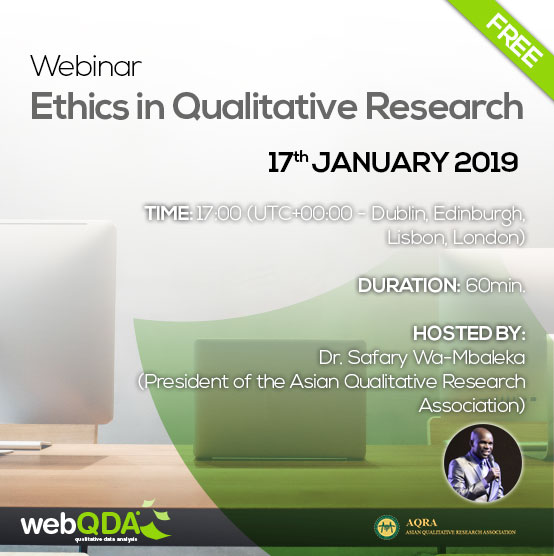 Webinar Ethics in Qualitative Research
Date: 17th January 2019
Time: 17:00 (UTC+00:00 – Dublin, Edinburgh, Lisbon, London) – please confirm the corresponding time in your location
Duration: 60 min.
TO REGISTER: Go through this page > Click the green button "Add to Cart" > Follow the shopping cart instructions
Participation is FREE but requires registration.
This webinar is organized by webQDA and the Asian Qualitative Research Association (AQRA).
Ethics in Qualitative Research
Ethics is probably one of the stickiest issues in research in general. It becomes even much more complex when dealing with qualitative research. As qualitative research spreads around the world, we need to focus our lenses on this important topic. This webinar is meant to provide practical strategies to use for ethics before, during, and after a qualitative research study. A reflection will also be led on ethical considerations from different perspectives and lived experiences in qualitative research.
The speaker, Dr. Safary Wa-Mbaleka, is an American researcher and educator who is currently working at a private university in the Philippines (www.aiias.edu). He is the founding and current president of the Asian Qualitative Research Association (www.myAQRA.org), located in the Philippines, and which has about 1,500 registered members. He teaches qualitative research and has provided several dozens of trainings, conference presentations, seminars, colloquia, and workshops on qualitative research around the Philippines and in many other different countries. He has published several qualitative research articles and books to make qualitative research much more learnable and teachable. He looks forward to sharing some practical strategies, challenge the audience with ethical reality, while learning from all the participants of this webinar.