Webinar: Revising auto ethnographic ethical guidelines from self to other. Nothing about us, without us
30 June, 2020 @ 21:00

-

22:00

UTC+1
|
Free
Event Navigation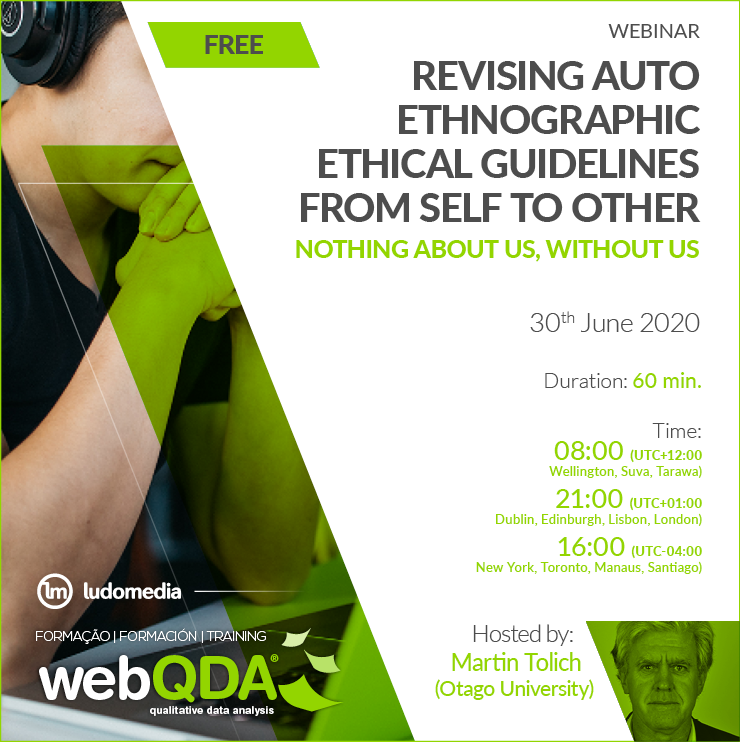 Webinar: Revising auto ethnographic ethical guidelines from self to other. Nothing about us, without us
Date: 30 June 2020 (please note that due to the time difference, in some timezones the date is 29th June)
Time*:
08:00 (UTC+12:00 – Wellington, Suva, Tarawa)
21:00 (UTC+01:00 – Dublin, Edinburgh, Lisbon, London) – 29th June
16:00 (UTC-04:00 – New York, Toronto, Manaus, Santiago) – 29th June
* Please check the correct time in your timezone (NOTE: in some timezones, the date will be 29th June) 
To register: scroll down >> click "add to cart" >> follow instructions (participation is free, no payment will be requested)
Duration: 60 min.
Hosted by: Martin Tolich (Otago University)
Auto ethnography dominated proceedings at the 4th Congress of Qualitative Inquiry (2008) yet its advocates provided little evidence of ethical considerations.  In response to this ethical void, Tolich wrote a critique of current practice: Ten foundational guidelines for auto ethnographers published in Qualitative Health Research in 2010.  Since then, according to Google Scholar 291 researchers, many of them graduate students have cited the article finding the guidelines 'influential', 'making a difference'. Others claim the guidelines were hard-line, oppressive. One of these citations recorded an Auto ethnography Tolich wrote about his experiences at Outward Bound (Tolich 2012).  The goal of this presentation systematically analyses ways the 291 researchers employed and commented on the guidelines especially their focus on how the retroactive nature of writing auto ethnography disrupts, challenges ethical considerations.  These researchers repeatedly found internal confidentiality, process consent and retrospective consent useful guidelines. Given the propensity of auto ethnographers to write others into "their story" after the event one of the original guidelines, featuring the anticipatory qualities of photo voice was not fit for purpose.  Rarely, it seems, do auto ethnographers anticipate ethical issues.  The disability activist sourced statement, "nothing about us, without us", superseding photo voice creates a paradigm shift replacing the original auto ethnography ethics catch cry,  "do I own the story because I tell it", and its preoccupation with the self.  'Nothing about us, without us' enables ethics squarely toward the rights of all people mentioned in the auto ethnography.  When applying these revised guidelines to the author's Outward Bound auto ethnography difficulties applying ethical considerations to autoethnography are both revealed and resolved.
Tolich, M., 2010. A critique of current practice: Ten foundational guidelines for autoethnographers. Qualitative Health Research, 20(12), pp.1599-1610.
Tolich, M., 2012. My eye-opening midnight swim: An Outward Bound autoethnography. New Zealand Journal of Outdoor Education: Ko Tane Mahuta Pupuke, 3(1), p.9.
Biography
Martin Tolich's first degrees were from Auckland University and his Ph.D. in Sociology was from University of California, Davis. He is currently Associate Professor in Sociology at Otago University, New Zealand. Martin has authored and co-authored numerous books on Research Methods and Research Ethics for Pearson, Oxford University Press, Routledge and Sage. His latest books were Planning Ethically Responsible Research (with Sieber), the Sage Handbook of Qualitative Research Ethics (with Ron Iphofen), Public Sociology Capstone: Non-neoliberal Alternatives to Internships, Social Science Research in New Zealand (with Davidson).  His forthcoming book with Routledge is Finding Your Ethical Self: a guidebook for novice qualitative researchers.  He has served on ethics committees for over twenty years and in 2008 founded a not-for-profit independent New Zealand Ethics Committee. In 2012, he gained a blue-sky three year Marsden Grant from the Royal Society of New Zealand to study tensions around ethics review. 
Details
Date:

30 June, 2020

Time:

21:00 - 22:00

Cost:

Free

Event Category:

Event Tags:
Organizer
webQDA

Phone:

+351 256 187 155

Email:

info@webqda.net